Sunday, December 19, 1999: Nairobi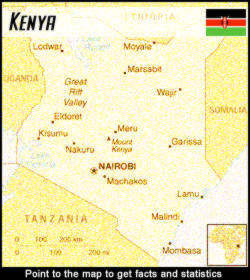 South African Airways has to be a government-owned airline, otherwise no one would ever tolerate the rude employees. SAA Flight 182 from Johannesburg to Nairobi was our first introduction to an African airline: when everyone's on board, the plane leaves, period. It could be 10 minutes late or 40 minutes early. We took off almost a half hour early, unheard of in the States, normal for travel in Africa, even for an airline as westernized as SAA.

Our second odd experience was Mount Kilimanjaro. The pilot had requested a routing to take us by Kilimanjaro on our flight into Nairobi. Jen and I dutifully looked out the window, expecting to see the mountain off in the distance. Suddenly, without warning, there was a giant mountain passing next to our window, maybe a half mile away. We were flying literally next to Kilimanjaro. It was a tremendous experience, other than the fact we were so shocked that we didn't even get any pictures. It's a little disturbing to whip by a mountain at eye level so close to the plane, but it was a remarkable view.

We were definitely in Africa. Not a westernized, Southern California version, but Africa. We knew that from the second we stepped off the plane at Jomo Kenyatta International in Nairobi. The customs desk was completely unmanned, and a few experienced travelers just stepped through customs unmolested. After a couple of minutes, Jen and I were about to try the same thing when a man in a purple double-breasted suit started wagging his finger at us with a "tut-tut" from his lips. Shortly thereafter, a bored customs inspector took his position to stamp our passport.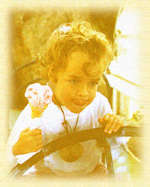 The airport was a bit chaotic, and Ivonne was a little late (actually we were a half hour early, even with customs and baggage claim), leaving Jen and I standing in a very large crowd just outside customs waiting for her. It was great to see her, Courtney and Zoe again (her daughters), even if both Courtney and Zoe both now have a pronounced British accent. David was away on business in London and wouldn't return until the 20th.
The drive through Nairobi from the airport to Ivonne's house (about 40 minutes) was a wake-up call that we were in the real Africa. For starters, though there's lots of cars, the vast majority of the population walks, period. Otherwise, they hitch rides in matatus, minivans jammed with 20 or 30 people where for four shillings (about five cents), you can get a ride to just about anywhere. Matatus consist of a driver and a money collector, who hangs out the door. Ivonne told us that many a matatu money collector loses his life flying off the side of the speeding vans. Clothing is all second hand and usually very worn. Grassy or landscaped medians in the road are crisscrossed with barbed wire to prevent people from sleeping there at night.
Nairobi itself looks very modern from a distance, but is quite dirty and rundown close-up, with open fires and squatters camps common. Put simply, you don't walk around Nairobi if you don't know what you are doing.
Traffic laws are also non-existent, as police do not have cars in Kenya. If you need a cop, you drive to the station to pick one up. Traffic lights don't work most of the time, so you take your chances and use the rotaries, which are the common form of intersections throughout the city. To control speed, you put a big, unmarked speedbump in the middle of the road. You have to know the city to know that they are there, otherwise you lose your engine if you hit them too fast. For police checkpoints, they lay alternating strips of spikes down in the road that you must slow to 1-2 miles per hour to navigate, giving them a chance to stop you if they need to.
Huffing is also big. You'll see many glassy eyed young men wandering the streets, a plastic bottle planted right below their nose and mouth. It's for sniffing glue.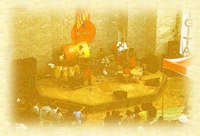 Ivonne lives in the Gigiri neighborhood, near the embassies and a large ex-pat community. The road hasn't been grated in years. Though it's an affluent area, cows and goats still graze up and down her street. She lives in a compound within a compound, about a mile after the pavement ends. Three houses share a guard and a gate, then each house has its own guard and gate within the compound. Ivonne's house is European alpine style, with high, sloping roofs, white stucco and hardwood, exposed intersecting beams. The house is surrounded by a concrete fence with broken glass on the top. The windows on the lower floors are barred, and thick steel gates are kept padlocked inside of every entrance. A second series of steel bars with a padlock sit at the top of the stairs to the second floor, creating a safe area in case someone gets inside.
Otherwise, all modern inside with what you'd expect in the West: satellite TV, computers with an internet connection, etc. She employs three people: Mary and another woman are her housekeepers and nannies. Charles, a college graduate, is her driver. Employment is so terrible in Nairobi that Daniel arap Moi, the president for longer than most can count, advises college graduates to leave the country to seek employment, lest you find work as a driver for an ex-pat.
Another difference between South Africa and Kenya: in South Africa, black Africans usually keep their tribal name. In Kenya, everyone has a Western name.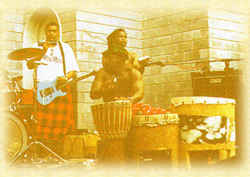 We spent the afternoon at the only real shopping center in Nairobi, the Village Market. It has a frozen yogurt place, a supermarket, a Steers (South Africa's answer to McDonald's, franchised throughout Africa) and a bowling alley. We got some ice cream and listened to an African rhythm band that was playing in the pavilion at the mall. About 500 people were gathered to listen. The music and dancing were excellent, though we were amused by the fact that a) half the band was from Pennsylvania and b) they had a web site (I remembered it wrong, so I don't have the URL). They had a whole song for the URL as well. It was pretty hysterical. Globalization, part two. Internet access is abundant for those with means in Nairobi.
We had dinner at Tamarind in Nairobi, and got lost a few times. People on the street are no help. Ivonne stopped in front of one guard for directions, who kept saying Yes and motioning for Ivonne to park there, where he'd watch her car... for a fee. A common joke in Nairobi is if you ask someone "Do you have poo poo on your head?" and they say yes, they have no clue what you're saying and are looking to hustle you.
We finally found the restaurant, one of the nicest in Nairobi. The food was delicious, particularly the Piripiri Prawns, a wonderful spicy mix from Mombasa.
That night, we found out why there are bars on the windows. At about 2 a.m., a deafening klaxon went off. It turns out someone was trying to break in next door, and the guard had hit the panic button to call in the private security force (who do have cars, unlike the police). The rest of our trip in Nairobi, we'd sleep upstairs in Courtney's room instead of the guest bedroom, which was downstairs and had a large, breakable picture window.