Wednesday, December 22, 1999: Zanzibar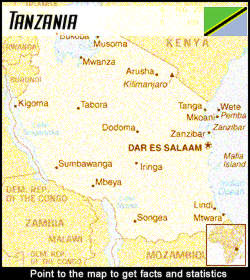 We caught Kenya Airways Flight 490 out of Jomo Kenyatta to Zanzibar at 10:30 a.m. The flight had a stop in Mombasa at, coincidentally enough, Moi airport. Daniel arap Moi has quite an ego problem (his face is on every banknote in Kenya, to say nothing of the roads and airports named for him). We had to get off the plane in Mombasa for 45 minutes to do who knows what before reboarding the plane to Zanzibar. As the airport was named for Moi, it was very nice and pretty modern, with lots of soliders (for some reason) from India hanging around.

Zanzibar was a scary airport. If you ever wonder why we send the third world, via USAID, all the concrete that we do, it must be to build airports. The airport at Zanzibar was a depressing concrete structure with no duty free, a dripping ceiling, no electric lights that I saw, and a plywood stand with a clerk sitting on a milkcrate for customs. Baggage claim was a table.

The cab situation wasn't much better. We climbed into a dilapidated cab which our driver proudly told us was manufactured in 1946. The seat was just springs covered in a sheet. When it started to rain, our driver ignored it as he had no windshield wiper.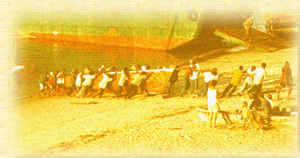 Zanzibar has fascinated me for quite some time, and I was very excited to see it. The city's heyday was clearly in the last century, and it's been quietly falling apart ever since. It's also a very Moslem island, given the fact that it was part of the Sultanate of Oman for 200 years, even though it lies 100 miles off the coast of Tanzania. It being Ramadan, was a little quieter than normal. It seems very tropical except for six blocks of East German constructed concrete tenements along Creek Road that look very much like they were carried in wholesale from Bucharest. They were built in the 1970s and should have been torn down then, as they are very out of place on the island.
We were staying at Tembo House, right on the water in Zanzibar. We had lunch at the Serena Inn, a couple of blocks away. The street vendors and cabbies are more aggressive than they are in Kenya, but we managed to dodge them. We spent some time wandering the market in Stone Town off Gizenga Street, the oldest part of Zanzibar. The buildings are intermixed with abandoned or collapsing brick and concrete structures. We spent the rest of the day relaxing by the pool deck and had dinner on the water, which was a bit hysterical because our waiter was new, didn't speak English too well, and managed to get almost everything wrong.