Friday, December 17, 1999: Johannesburg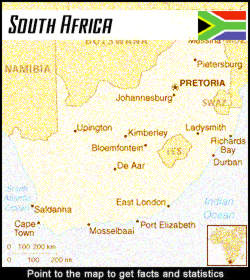 We woke up just south of the equator, somewhere over the Democratic Republic of the Congo (formerly Zaire) and were awake for the rest of the flight into Johannesburg International Airport. We got through customs easy enough and met up with Steve, Lucill and Steve's brother Mike at the airport. There was some confusion, as my Uncle, who has business in South Africa, had arranged for someone to meet us at the airport, so we had dueling plans. We met Vaughn after Steve and Lucill. Vaughn was very cool, and had arranged tours for us during our two days in Johannesburg, but Steve, Lucill and Mike had also had some plans in mind, so we had to do some juggling. Vaughn drove Jen, Mike and I to our hotel in the north suburbs of Johannesburg.

Our first impression: Los Angeles. Okay, they drive on the wrong side of the road, but it is very easy to confuse Johannesburg, particularly the north suburbs, for Los Angeles. The climate, the terrain, just about everything. But a few things are amiss.

First, there's the massive, symmetrical slag piles that dot the landscape. They're anywhere from 20 to 100 feet high, and stretch from a few hundred yards to almost a half mile. They look like spent landfills. Much of the area around Jo'burg was heavily mined for gold earlier in the century, and these piles of near-toxic, alkaline dirt are what remains. In fact, some parts of Jo'burg were so heavily mined that it's unsafe to build buildings higher than three stories. The area is honeycombed with gold mines.
More alarmingly, there's no such thing as a building or house without a high, concrete fence topped with either barbed wire, razor wire, broken glass or enough electricity to fry anyone who touches it. This is true both in the richer and poorer neighborhoods. Driving through the suburbs gives you a view of different colored walls and trees, and that's about it. The houses are securely tucked away.
In fact, Johannesburg is so crime-ridden, we were advised that if we attempted to visit the city center, we'd get mugged within minutes of stepping out of our car. In many respects, it sounds like Detroit in the 1970s, but far worse. They make cars with flame throwers under them, so you can fry someone trying to carjack you. And I'm serious. Anyone with means lives in the north suburbs, which is just as fenced in, but has that California feel.
South Africa still has some healing to do, post-apartheid. Vaughn was telling us a story about the time before the 1994 elections, which brought Nelson Mandela to power. Some black Africans (white South Africans make that distinction. If you ask an American about their heritage, they will tell you they're German, Irish, Japanese, etc. Ask a white South African, and all will say, simply "Africa." Most are at least third generation African, with some with their lineage going back 15 generations) were asking Vaughn very pointed questions about his house, his car, his possessions. When he asked why, they explained that, after the elections, they wanted to know what they were going to get when they took his house. The ANC, a Marxist party for decades, had promised everyone a house and a car if they came to power, so his co-workers had assumed that they would move in after the election. Vaughn apparently explained the first one who came into his house would leave in a body bag. He was serious. What was more interesting is when we related this story to other white Africans, they had similar stories.
Vaughn drove the three of us to our hotel, the Park Hyatt in Rosebank. Definitely a great place to stay, as it was five minutes from the wedding, near Lucill's family, walking distance to lots of shopping, and it could pass for a top-notch hotel anywhere in the U.S. or Europe. We had planned to meet a guide Mike had met at the airport for a tour of Soweto, the one place I really wanted to see in South Africa. Vaughn, who had promised to watch out of us, agreed reluctantly, but only if he could meet the guide first. Vaughn would later track down our guide's cell phone number and call us mid-tour, to make sure everything was okay. Security is South Africa is a serious concern, and he wanted to make sure we were okay. We were very thankful he was there to watch out for us in our first hours in South Africa.
The guide turned out to be great. Themba Thokozani (011-27-83-726-7010 or 011-27-11-988-5297) lives in Soweto, and is registered tour guide in South Africa (very important). He came to pick us up in a yellow 1987 Mercedes sedan at the hotel, wearing a fez, though he told us later he wears it simply for fashion. The tour worked out to 180 Rand per person (about US$30), and was worth every penny, as he gave us four hours driving through Soweto, along with the history and perspective that could only come from someone who lives there. The tour also included a stop at his home, where we met his mother in law and children. The house, though simple with a tin roof and bathroom in the back, had most modern amenities, including a computer, television, microwave and pictures of Will Smith in his daughter's room.
Soweto is poor by American standards, its living conditions definitely third world and, as we would find out later, is modern and rich by African standards. It was founded in the early 1900s as a place for black African gold workers and grew remarkably during World War II, as the need for labor in the mines increased dramatically. One odd fact: up until the 1930s, Soweto was almost all male, as workers were forbidden to bring their wives (polygamy is common in African cultures). This was the cause of some of the original unrest in Soweto, up until workers were allowed to bring one wife with them to the townships.
Soweto is actually a collection of two dozen townships, southwest of Johannesburg (SOuth WEstern TOwnships), with an estimated population of between two and four million, though the official census pegs the population at 535,000. Like any suburb, it has its poor areas and its wealthier areas, built out when blacks were forbidden to live elsewhere, but built out further, post-apartheid. As Themba explained, though some black Africans with means moved out of Soweto, many either moved back or maintain a home in Soweto, as the nightlife and activities are preferable in the township to the more sedate lifestyles of the northern suburbs.
The tour covered areas with nice, fenced in homes, regular, four-room cinderblock homes with tin roofs, and squatter shantytowns made with whatever material is available. In some areas, garbage disposal is simply the field across the street. Many bus stops stand naked on the street corner, as squatters have stripped them of tin and metal to build houses. Garbage burning in the poorer areas is common.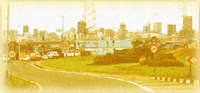 We covered a wide range of territory in Soweto, including Baragwanath Hospital (the largest in the world), Freedom Square in Kliptown (where the ANC charter was drafted), and visited the only street in the world with two Nobel Peace Price winners (Desmond Tutu and Nelson Mandela), located in Beverly Hills West. We also drove by Nelson Mandela's original house in Orlando West. Winnie Mandela also has quite a large house in Orlando, built in part with money from Jane Fonda and other donations from people worldwide.
Nelson Mandela's house in Beverly Hills West is open to the public, and we were given a tour by a dreadlocked gentleman who was a former resident of Boston. It's a small house, with a high fence and a "safety" room in the kitchen, fenced in by cinderblock, as the police and other groups frequently would shoot into the house. It's a little eerie to get a guided tour of the bullet holes in the home. The tour was about 15 minutes, and is not a regular museum: articles, pictures, gifts are freely on display throughout the house with no plexiglass coverings.
The most interesting story of the tour was about Winnie Mandela's dog, a vicious, six-foot tall Rottweiller cross-breed that didn't eat poisoned meat (which was a favorite trick of the secret police to kill guard dogs), didn't bark, and went straight for the neck when attacking. The last time people tried to break into Mandela's house to kill Winnie Mandela, the dog crept up on one of the attackers and got in one quick bite. The attacker made it back over the fence to realize half his neck was gone. He bled to death on the spot. Until the end of apartheid, no one attempted to climb into the yard again. The dog, who hated everyone except Winnie, died of old age in 1992.
No trip is complete to Soweto without a stop at Wandie's, where for about R30 per person (US$5), we ate the South African equivalent of Southern soul food: curried beef and chicken, cornmeal biscuits, seafood stew and Castle beer. It was delicious. Wandie's is covered head to toe with photos and business cards of famous people who have visited, including, as I found, two business cards from folks out at Netscape. I tucked my AOL business card in behind their business cards and jotted down their e-mail address.
Two other things we learned in Soweto:
Negotiate everything. There was a woman selling crafts outside of Wandie's and Jen picked out two wonderful hand-made pillow covers for R50 (US$8) each. We found out afterwards the real price was half that. Africa is much like the Middle East or a flea market: everything is negotiable, and is expected. In some areas, it's insulting not to negotiate
Safety. We heard this a lot, particularly from white Africans, who were surprised we went to Soweto. As with most tribal cultures in Africa, if you are someone's guest, you are safe, period, and your host is expected to extend courtesy, hospitality and protection during your visit. We could walk around Soweto, drive around most areas and as long as we were with Themba, we were safe, period. It made the trip particularly enjoyable, and there were only two places where Themba advised us to roll up our window in the car. To white South Africans, visiting Soweto was like visiting Harlem: usually, only foreigners make the trip.
Safety aside, BMW means one thing in South Africa: Break My Window. Car theft is rampant and despite the protection of our guide, the car was always locked when we parked and we never, ever, left anything in there. Considering we were walking around with about US$2,000 in camera and video gear, it was a good rule to live by.

We went out for seafood for dinner in the northern suburbs that night and caught up with Steve and Lucill. Again, the restaurant in terms of quality and service was Southern California. When everyone else switched to coffee, Jen and I stuck with wine and beer. The party picked up Driki (Lucill's sister) and her boyfriend and moved back to the Park Hyatt, where somehow Jen and I stayed awake past midnight before calling it a day.