Saturday, December 18, 1999: Johannesburg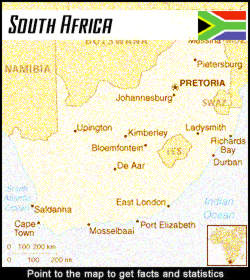 Wedding day. Jen and I walked to the pedestrian mall with Mike for lunch. He had to head back to get ready for the wedding around 1, so Jen and I caught a ride to a mall in the northeast corner of town called The Waterfront. Big mistake. The mall, built around an artificial lake, was like Disney World on crack, with your basic mall shops, a zip line across the middle of the lake, a boat tour (if you could believe it) and paddle boats. We wandered around for a bit, did some shopping and caught lunch at a "lakeside" restaurant, where we gave advice to a waiter who was traveling to the states in February (in short: eat sushi at Chika at 9th and Irving in San Francisco). We were a bit of a novelty, as not many Americans hang out there.

We were going to go back to the hotel, but decided to go instead to Sandton for more shopping. Sandton looks, feels and is Tyson's Corner, with the exception of heavy security. Jen, somehow, sniffed out the only Nine West in South Africa and did a little shoe shopping. And after many unsuccessful attempts in both Germany and South Africa, we found monitor wipes for Ivonne at the mall. The monitor wipes available in Kenya, apparently, don't do much, and there's lots of dust

Caught a cab back to the hotel to get ready for the wedding. Lucill's cousin Andrea came to pick us up. The church was in a lovely area near Rosebank, though very clearly built in the 1970s. The wedding had about 40 people there, who were immensely amused by the Americans running around taking pictures and videoing the whole event. As Mike, Jen and I were the only American representatives, we wanted to make sure we had good video and photos of the event. Ivonne was letting us use her digital camera, so we could upload photos of the wedding that night to the Net for folks in New York.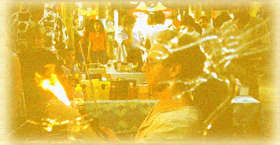 The service was beautiful, and the reception afterwards was small, intimate and splendid in the gazebo behind the church. Steve had to give a speech, as is tradition in South Africa. In keeping with a similar tradition, we had to heckle him during his speech, which was a blast. The menfolk in particular had fun with him, though he pulled off both English and Afrikaans with a minimum of blushing.

The party wrapped around 11, and Jen went back to the hotel to pack for our morning flight while Mike and I headed over to Andrea's place to prep and upload the photos. I had burned a CD with Photoshop and all the necessary filters, so I had everything I needed with me. Andrea's place was another example of the high security state of South Africa. She split a rental house in the north suburbs with three friends, and it was a typical twentysomething group house with a few exceptions, like the eight-foot tall cement wall, the automatic gate, and the barbed wire fencing in the house. It is very doubtful anyone ever gets to see their neighbors in South Africa.

To make a long story short, we had some computer problems, so we went to Lucill's parents house, Andrea's office (she was totally cool about driving me around) and finally back to the hotel without being able to get a Net connection to upload. At long last, I found out too late that the hotel has a 24 hour business center with a Net connection. Steve and Lucill's wedding went live on the Net at about 3:15 a.m., in time for everyone to see the pictures in New York Saturday night.

We had arranged for a car to pick us up about four hours later for our flight to Kenya, so I went upstairs to get a little sleep.