Thursday, December 16 - Frankfurt/Heidelberg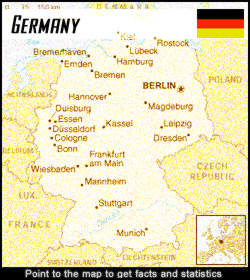 We got in at about 7 a.m. into Frankfurt... about 1/2 hour early. We were pretty tired, having had only three hours of sleep on the flight. Customs was quick and uneventful. We'd been through these overnight flights before, so we went to the business lounge to wait for a shower room and load up on proteins, to try to keep us awake through the day.

The shower room was a hoot. There was a Turkish woman who spoke some German and no English who took us both to the shower room. She was explaining something to me and kept motioning to my feet. I nodded, and, trying to guess what she was saying, started taking off my shoes. "Nein! NEIN!" she started shouting at me, and spoke rapidly in German. Luckily, Jen figured it out. She was telling us to step on the bath mat in the room. She thought I was starting to strip in the hallway. Oy! I left the woman a DM10 tip (about US$5) out of guilt. (We loaded up on Kenyan, South African, Jamaican and German currency on Currency to Go. Give them a credit card, buy currency, and you get a FedEx of international cash the next day. A great service.)

Jen and I took a nice, hot shower to wake us up. We were endlessly amused by the self-cleaning toilet seat, which activated automatically and kept going off while we were getting ready. Leave it to the Americans to be amused by the self-cleaning toilet seats. (For those that are curious, the seat revolves around in a circle while a robotic arm wipes it down).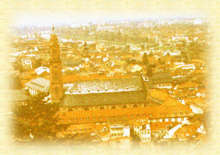 We had about an hour before our bus to Heidelberg, so we hung around the airport, spent some time joking about the presence of a porn shop ("House of Erotik") in the middle of the airport, and grabbed some soda. We had heard from a number of people that Heidelberg was a far better way to spend a day than hanging around Frankfurt, and Lufthansa ran hourly buses to the city. We had hoped to check out the countryside by the autobahn, but we fell right asleep on the bus.
The bus pulled in right near the old town and shopping district in Heidelberg at, of all places, a Marriott. And man, it was cold in Heidelberg. To save room, we didn't bring winter coats, so we layered up with sweaters and light jackets. It did the job... barely.
Heidelberg was first founded in 1196, though nothing remains from that time. There's some nice shopping through the square, particularly close to the foot of the castle. We window shopped for a couple of hours on the 1 1/2 mile walk to the base of the mountain tram that would take us up to the Heidelberg Castle, one of the most magnificent in Europe. Found a shop called "Allfrisch", which resulted in a PhotoOp.
The tram took us up to the entrance of the castle. Admission was DM12 (US$6). The first pieces of the castle were built around 1400, and pieces were added and destroyed over the next 500 years, creating a tapestry of a building that is remarkable to look at. In particular, its centerpiece Friedrich Building, added around 1600, is quite an exclamation point with its ornate windows and exterior stylings.
The courtyard and castle are about 300 feet above the town, and provide a commanding view of the valley and town below. We spent about an hour in the castle and museum. We would have liked to stay longer, but we were high enough up the mountain that there was snow and ice on the ground, and we were getting cold.
We had an international experience in a French cafe down the hill, eating Danish cheese delivered by a Thai waitress, drinking American beer and listening to Brazilian salsa music. Small world syndrome would end up being a running theme on the vacation.
By this time, it was getting dark, and very, very cold. We hopped, five stores at a time (to warm up), back to the main shopping plaza and caught a cab back to the Marriott, where we picked up the bus back to Frankfurt. The check in desk was also chaotic, filled with tourists heading to Cape Town (Kapstadt) for the holidays. We boarded Lufthansa Flight 572, which took off at 10 p.m. for Africa. This time, we had no problem passing right out for the flight that would take us both, for the first time, to Africa.